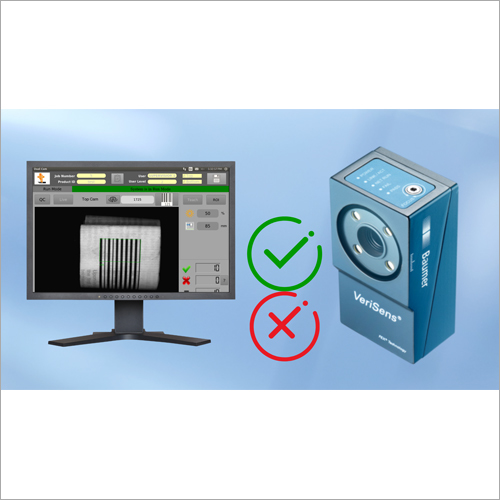 VISION INSPECTION SYSTEM
Product Description
Dual Camera Print Verification System for leaflets :
This system comprises two smart cameras from Baumer, Germany, which are very efficiently designed. The system checks the accuracy of Pharma leaflets/inserts and outserts. Leaflet folding machines are fitted with cameras. During folding, one camera verifies an area on the upper surface of the leaflet while the other verifies an area on the lower surface of the leaflet.
The cameras are incredibly intelligent. Here's what they can read and verify:
Blank sheet / print presence
Online Character Recognition (OCR) and Online Character Verification (OCV)
Verification of 1D barcodes, including pharmacodes, to prevent mix-ups
Verification of 2D barcodes including QR and Data matrix codes
As a result, the system can be used for both leaflets with and without barcodes.

System Description :
This system is composed of a touch screen display, two smart cameras, sensors, an encoder, and a control unit. Users can easily set the parameters for the job and see live images of the leaflets as they are being taken by the cameras. It is very easy to move the cameras horizontally on the machine and only minimal vertical adjustment of cameras or sensors is required. In addition, the GUI is easy to use and intuitive. At present, we offer two versions:

Basic Version:
This system comes with following feature:

Advanced Version:
The system comes with the following features:
Pattern matching
Reading and verifying 1D codes (barcodes and pharmacodes)
Reading and verifying 2D codes (data matrix and QR codes)
Key Features :
The pharma compliance job reports we provide include a breakdown of the number of accepted leaflets, number of rejected leaflets, and total number of leaflets, along with other statutory details
Compact embedded technology and smart cameras ensure easy use, ease of installation, and minimal space requirements
As a result of the advanced software used by the cameras, the system is extremely reliable and easy to use
Also, we provide an output sensor that counts the number of sheets fed to the machine as well as the number of sheets delivered to the machine (to check for waste)
Action against defect:
Machine Stop :
An automatic "Machine stop" signal is generated if any defective leaflets pass through either of the cameras. This must be acknowledged by the operator, who must then remove the defective leaflet. A screen shows the defect image.
Ejection :
When there is an "Ejection" mechanism on the machine, our dual camera system can eject the defective sheet without stopping it.
System for leaflets: - (For Folding & Label Application machine)
Product Type: Inspection system for printing, packaging process.
Material: Cameras, controllers, encoders, processors, sensors etc.
Power: 220 V
Certification: CE
Temperature: Max 60 C
Voltage – 220 V
Size- 1.5ft x 2 ft
Colour : Grey / Black
Warranty: One year Terms & conditions apply
Function: Inspection of folding machines and printing machines online. Proper sheets are examined in the pharmaceutical industry.
Usage : Printing / Pharma / Packaging.
Product Type : Inspection System
Description: Folding & other leaflet process machines can inspect & eject leaflets via 2 cameras online. This includes inspection of pattern, pharmacode and barcode, as well as Report generation facility.